Sustainability Specialist
Do you believe impact investing can make a real difference for people and planet? Do you have experience with impact and sustainability? Norselab is looking for a fierce Sustainability Specialist for our impact team!
Introducing Norselab
Norselab is a leading European impact investment house, dedicated to proving that impact is the future of investing across asset classes. With an uncompromising focus on creating a meaningful future for all, Norselab invests in net-positive companies that accelerate the urgently needed change in global industries. Backed by our strategic partner, Capricorn Investment Group, we are building out a range of attractive impact offerings across asset classes.
We currently manage two funds in growth equity and two funds in credit. They are all governed by our industry-leading impact frameworks and classified as SFDR Article 9, while being designed for superior capital returns. The ambition is to expand rapidly across classes and investment phases thanks to our pioneering impact approach, first-rate investment teams, and institutional-grade governance rig.
The position
Our impact team is responsible for Norselab's overall impact approach, "Meaningfulness", on a strategic level. The team also works closely with all funds under the Norselab umbrella to ensure a forward-thinking and thoughtful approach to sustainability.
Here are some examples of what you could be working on as a Sustainability Specialist on our team:
Be the advocate for a data-driven and research-based approach to sustainability in everything we do.
Contribute to shaping Norselab's Sustainability Policy, frameworks, impact assessment methods, and measuring- and reporting schemes in accordance with current regulations (SFDR in particular) and industry standards.
Collaborate with all relevant functions to build understanding and adherence to Meaningfulness.
Plan, organize, and fulfill sustainability reporting commitments, including the annual "Meaningfulness Report". Norselab is a signatory of the PRI, and UN Global Compact, and is in the process of being certified for our social and environmental performance by a third-party certification body.
Lead engagement with portfolio companies, and in some cases, take the lead on sustainability projects on behalf of the companies.
Keep the team up to date on regulations, trends, and market developments within sustainability.
Contribute to communication initiatives where sustainability expertise is required.
Proactively work to establish and improve internal work processes and tools within sustainability.


Below is our wishlist for candidates. We understand we're describing a superhuman, and do not expect a single candidate to meet all our wishes.

Please apply if you feel that you have some of these qualities. More than anything; we're looking for someone who is willing to learn and grow.
You are enthusiastic, driven, and have serious grit.
You're motivated by purpose and are a true team player - always ready to lend a helping hand to a colleague on our mission journey.
You have a strategic mindset combined with a strong "doer" attitude.
You have excellent communication and collaboration skills; you understand that people will only engage and act if sustainability is relevant and understandable.
You enjoy juggling multiple workstreams at the same time.
As a structured individual, you enjoy managing your own work, but know when to seek guidance.
You combine speed and attention to detail.
You are ambitious and constantly look for ways to improve your approach to sustainability.
You are resourceful and forward-leaning, working around obstacles and coming up with alternative ways of reaching your goals.
You have a demonstrated willingness to learn and grow.
You identify with our People Philosophy.


Experience and skills
3 + years of experience from a similar position, preferably in an organization connected to ESG or impact investing, although this is not a requirement.
Solid knowledge of impact investing and ESG analysis.
Proven track record from at least two of the activity areas described for the position.
Robust writing, editing, and presentation skills in English. Norwegian is a plus but not required.
Robust data management skills are an advantage for this position.


What you can expect from us
We are offering an exciting opportunity to be a part of an organization on a mission to prove that impact is the future of investing across impact classes. You will get hands-on experience supporting Norselab's impact funds, categorized as SFDR Article 9, and be a key contributor to further strengthen our impact approach.
You will join a tight-knit, entrepreneurial team with expertise in a range of fields, including finance, communications, impact, and governance. Our freshly refurbished office space in central Oslo is home to Norselab and a handful of our portfolio companies. We sit within the Norselab-owned coworking space "Thallus". Benefits include multiple daily lunch options, a pension plan, private health insurance, and more.


Additional information
This role reports to Norselab's Chief Impact Officer.
Closing applications on November 30.
We reserve the right to review candidates continuously.
If you have any questions, please contact:
Maria de Perlinghi: maria@norselab.com / +47 92 22 19 59


Latest from Norselab
More from us
Oda Standal joins Norselab's impact team, where she will be instrumental in assuring the integrity of our impact approach across all funds.
Norselab Real Estate Credit Opportunities launches on November 20th, 2023. The initiative is the second in a series of credit products envisioned under the Norselab Group umbrella, and comes at the back of exceptional opportunities spotted by Norselab's credit team in a real estate sector under a lot of strain.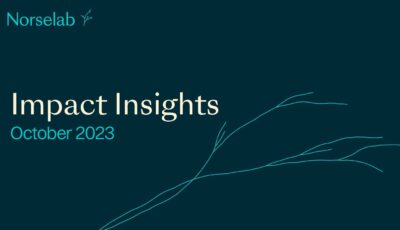 Ready to dive into our latest update on the sustainability landscape? Read on to learn about the consequences of melting permafrost, why indigenous people worldwide play a key role in the development of climate politics, and how criminalization impacts young climate activists negatively.