Who we are
Norselab is a leading European impact investment house based in Norway. Backed by US-based impact investor Capricorn Investment Group, we are dedicated to proving that impact is the future of investing across asset classes.

Across our funds, we invest in meaningful companies that drive large-scale positive impact and industry transformation.
We currently manage three funds in growth equity and credit.



Our people philosophy
People are the centerpiece of any business. People innovate. People. build. People are the beating heart of success.
Disregard people, and you will have nothing. Enchant your people, and anything becomes possible.
Explore
Our values
Our values serve as a behavioral compass. They infuse our thinking and direct our decisions.
Here is an introduction to the values we stand by at Norselab.
Explore our values
Contact us
Are you looking to invest with us, for meaningful capital to fund your company, or anything else - don't hesitate to get in touch with us.

Get in touch
Latest from Norselab
More from us
In a world that is craving for positive change, Norselab has been at the forefront of proving that impact is the future of investing. We are pleased to present our Meaningfulness Report for 2022, which showcases our commitment to driving real change through investments in meaningful companies across asset classes.
Norselab's Meaningful Equity II fund leads a 18 MNOK Seed round investment in Beefutures to harness the power of bees as the custodians of biodiversity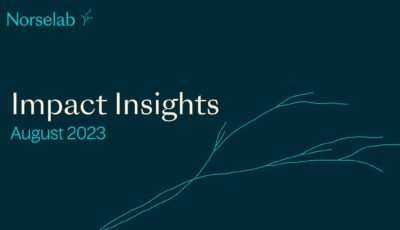 Can't keep up with everything that's going on in the impact and sustainability space? Our impact team has got your back with Norselab's monthly Impact Insights.